Cycling Proficiency?
Yes, it's that time of year again when your children will be doing cycling proficiency at school. Is their bike legal and safe /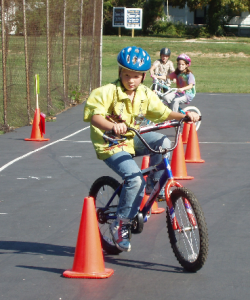 roadworthy? Do you need to get them a bike if the one they have is unsuitable or they have outgrown it? Current Law states that a NEW bicycle must have the following:

Requirements for New Bikes:
Any hand-operated brakes arranged left-hand rear, right-hand front
A bell
White or yellow reflectors on both sides of each wheel or tyre
A white wide-angle front reflector, or a front lamp
A red wide-angle rear reflector
Yellow reflectors front and rear on each ped

al
The law is not so clear on used bicycles, but to be on the safe side the above are recommended. You also need to ensure that the cycle is roadworthy, with correctly inflated tyres (which should not be cracked or perished and have sufficient tread for the type of tyre) and correctly functioning, effective brakes and gears (where fitted). It is also important that all bearings are free to move (there are quite a few on a bike – wheels, headstock, pedals, bottom bracket). The chain should also be free running, but not oiled excessively as this can drip on to the braking surface of the wheel, then you have no brakes.
If you are proficient enough to check it yourself, please make sure yo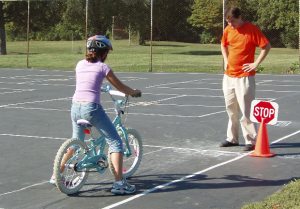 u do so before your child goes to cycling proficiency, as they may not be allowed to participate if the tutor deems the bike to be unsafe or unsuitable. Alternatively, bring it along to us for a check-up. We have a good stock of used, fully serviced bikes if you feel the bike needs to be replaced. Give us a call if there is anything you want to know, we're always glad to help or advise.