*All bikes NEW and USED are COLLECTION ONLY from our premises in Evenjobb, near Presteigne, Powys LD8 2SA, UK, on the England/Mid-Wales border. Remember to enter your telephone number at the Checkout stage so we can make arrangements for you to collect your bike. Thank you!
NB:  The bikes listed on our website are in stock.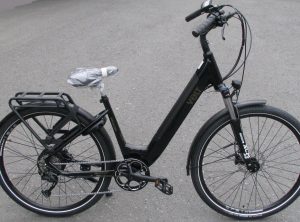 Burlington by VOLT Electric Bike – Aluminium – £1,949.00
*This Electric bike is COLLECTION ONLY from our premises in Evenjobb LD8 2SA, on the England/Mid-Wales border.  If you're interested in viewing or buying this bike, please contact us on 07970 152170.  Thank you!
Gender:  Unisex
Frame Material:  Aluminium
Suspension:  Forks and seatpost
Brakes:  Hydraulic Disc front & rear
Wheel Size: 26″
Frame Size: 17″
Gears: 8
Range: 60miles* (dependent on influencing factors and how the bike is ridden)
Condition: Brand new, in stock
Other Volt bikes are available to order at present.

Price: £1949
** Prices may fluctuate from time to time depending on special offers from VOLT.
See our other NEW VOLT Electric bikes for sale on this website! You can buy the bikes from us, either from stock or on order, or you can buy direct from VOLT and have the bike delivered to us for assembly and checking (all included in selling price, which will be the same wherever you buy the bike).

not rated
Read more