Bike related gifts – clocks and earrings – here you will find a selection of novelty gifts that are bike related and in many cases made from recycled bicycle parts. There are a good selection of clocks made from chainwheels and brake discs, plus a range of ear rings – all of which have sterling silver ear hooks or studs. These are individually hand made by us with bicycle related materials and each pair are unique. Choose the style you like and note it down on your order.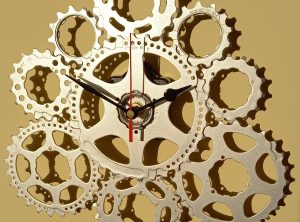 Clock from Bicycle Parts 1
Unique, hand made clocks from recycled bicycle parts, featuring a silent sweep quartz movement. Many styles to choose from.

This clock is 270mm H x 260mm W, silver, made from cassette parts with black and red hands
not rated
£

45.00
Add to basket