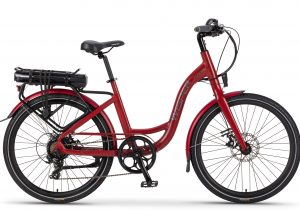 Wisper 705SE Step Through E-Bike (24″ wheel) Blue or Red £1499
*This Electric bike is COLLECTION ONLY from our premises in Evenjobb LD8 2SA, on the England/Mid-Wales border.  If you're interested in viewing or buying this bike, please contact us on 07970 152170.  Thank you!
Gender:  Unisex
Frame Material:  Aluminium
Suspension:  none
Brakes:  disc hydraulic
Wheel Size:  24″
Frame Size:  Step through
Gears: 7
Range: up to 50 miles
Condition:  This is a new e-bike sold with manufacturer guarantee. It is an electric bike with lights, rear carrier rack, handlebar LCD display/control and rear wheel motor. 575wH battery (up to 50 miles)
PRICE: £1499.00

See our other Electric bikes for sale on this website! You can buy the bikes from us, either from stock or on order.
not rated
Read more